The Celebrants Network Inc - BLOG
This blog is updated by passionate celebrants. Make sure you subscribe so you don't miss the latest from The Celebrants Network

More Blog posts can be found in the Blog Categories to the right.
Including your pets in your ceremony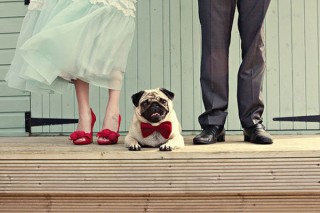 When you have a pet, a fur baby, or a four legged best buddy, they become a very important part of your life, so why wouldn't you include them into your life celebrations? Celebrant Shell Brown talks to us about including your pet in your marriage ceremony.
Well, there are a few
reasons that you might want to be aware of...


* What happens if your pooch runs off with the rings?


* What happens if your usually well trained llama spits at the guests?


* What happens if nature calls as your horse trots up the aisle?


People with pets understand that things don't always run as smoothly as you sometimes hope they will, then again you could say the same of human children! So here are a few things to consider when including your furry bud in your ceremony.


1. Think about your pet's temperament. How do they react around crowds, children, and loud noises?
2. Talk about your plans with your family, attendants and particular guests and find out if anybody is frightened of (insert type of animal you have)


3. Make sure you get permission from venues and give professionals such as you celebrant, photographer and musician advance notice. That way everybody can be better prepared.


4. Ensure that you have appointed a trustworthy person to do the job of pet-sitting. You can ask a friend who your pet is familiar and comfortable with or hire a professional dog handler to make sure your dog is safe and hydrated throughout the day.
5. If you are somebody who likes to dress your pets up in special outfits, choose the outfit carefully and make sure that your furry friend is not going to be too hot or uncomfortable wearing it.
6. As with all ceremonies - you should have a Plan B in case of poor weather, so consider having a Plan B for your pet as well. If your pooch was meant to carry the rings down the aisle and she doesn't feel like it at the appropriate time, then go with the flow and slip the back up plan into action.
Click HERE to find a Celebrant in your area and talk about including your pet in your ceremony.
Comments
No comments made yet. Be the first to submit a comment
By accepting you will be accessing a service provided by a third-party external to https://www.celebrants.org.au/